The Archbishop has appointed me Locum Tenens Priest for the duration of The Rev'd. Stuart Gardiner's Long Service Leave and I, along with my husband, Ian, are delighted to be with you.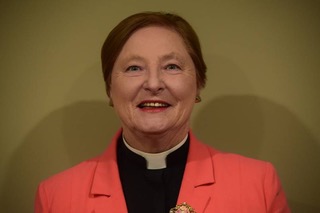 I was born, educated and married in Brisbane. Ian and I moved to country Victoria when we were expecting the first of our three children (now adults). I was Ordained Deacon in Wangaratta Diocese and Priested in Bendigo Diocese, serving in these Diocese' until the end of 2013 when we moved to Abbotsford on the Yarra, to be nearer our family. Since then I have been Locum at Aberfeldie, Kew East, Aberfeldie (18 months) and now St. George's.
We very much look forward to worshipping at St. George's and getting to know each of you.
The Rev'd. Gail Bryce.